They say, "If you've got the glow, you will steal the show," and we agree because it stands true. Remember the old times when your mother used a nice mix of lemon and honey, only to look flawlessly gorgeous before leaving for a party? Lemon was considered a boon for skincare, for it had the goodness of Vitamin C within that offered skin-brightening and nourishing benefits like no other. The desi nuskhas are still a wonder, but do we have the time and patience to try them out? We do not. Flawless skin may seem like a big milestone to achieve, but you could ease up the process by picking up the right skincare masterpiece for yourself. But, today, technology has advanced well enough to blend the age-old skincare with better techniques that save time, effort, and energy. One such beauty is Vitamin C Serum.
But why are we emphasizing so much on natural goodness today? What are the benefits that are offered by this excellent product? How should you use it, and how often can you use it? There might be several questions in your mind that you must be wanting answers to. So, let us bring you home to all the details we have in store for you, one by one:
Vitamin C Serum – Everything You Need to Know
Vitamin C is one of the most potent ingredients to offer natural skin radiance and nourishment. It is mostly found in citric fruits like lemons, sweet lime, etc. Known to heal the skin from various problems like dark uneven skin, spots, pigmentation, and many more that can be a daily struggle for many of us.
Other benefits of this vitamin are related to the cellular layer of your skin. This vitamin's regular and judicious intake can make these cells more immune seasonal or environmental changes. This can also make them resilient against the effect of free radicals and excessive sun exposure. By applying a vitamin c-enriched skin cream, you can have better results for your current skincare regime.
Mamaearth brings you home tonatural solutions to many of these troubles. It offers products made from natural and nature-derived ingredients that help in the complete care
and nourishment of your skin by replenishing it with vital nutrients and antioxidants. Its products are free from harmful chemicals and toxins that may be dangerous for your delicate skin in the long run.
Among its gentle and safe product range is its Vitamin C Serum. Made with the natural goodness of Vitamin C and other vital nutrients, it is meant to give your skin the glow you have been seeking for so long, in just a few drops! The benefits are too many to count.
Here are some of the best ones you could choose from:
Lightweight and non-greasy
Nobody wants a greasy, sticky feeling that stays all day long after applying a skincare product on the face, for it only makes the skin look oily and dull. With Mamaearth Vitamin C Serum, you would never have to worry about that. It is designed with a lightweight formula that makes it have a watery texture. It absorbs well into the skin, penetrates deep into the skin, and promotes healthy skin.
Made With Natural Ingredients
Once you know what is on the inside, you know where you can place your bets on- and nowhere is this truer than selecting the best skin care product for yourself. Mamaearth Vitamin C Serum is made from safe, gentle, and natural ingredients that provide intense nourishment to your skin. It has the enriching goodness of Vitamin C, Gotu Kola Oil, and Niacinamide.
Vitamin C helps you have a more radiant and glowing appearance. It helps reverse sun damage and gently soothes and brightens your skin. It also promotes faster regeneration of skin cells. Gotu Kola Oil is loaded with several hydrating and antioxidant properties that help restore skin elasticity, promote collagen synthesis, and improve skin firmness. Niacinamide has excellent anti-inflammatory properties. It helps promote even skin tone and provides a youthful and radiant glow!
Toxin-Free in Nature
Your skin is delicate and reacts very responsively to its surroundings. Thus, taking care and putting adequate attention on your skin is essential. Mamaearth Vitamin C Serum is designed to be completely free from harmful toxins like Parabens, Sulfates, SLS, SLES, Silicones, and artificial fragrances. Its beautiful and toxin-free nature makes it completely safe to use.
Note: We will also discuss using Hyaluronic Acid Serum for regular skin a little later in this article.

How To Use Mamaearth Vitamin C Serum for Face?

Glow with beauty and nature's love in just a few drops with Mamaearth Vitamin C Serum. The directions to use this skincare beauty are as follows:
Apply 3-5 drops of the serum on the face and neck twice a day in an upwards circular motion.
Massage gently till absorption.
During the day, follow up with a broad-spectrum sunscreen.
Opting for Hyaluronic Acid Serum could also help!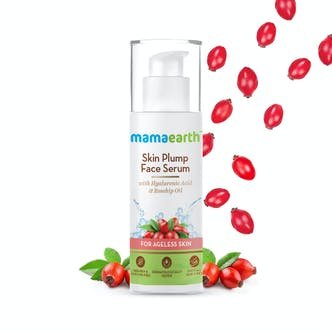 Several skincare troubles haunt us like premature aging, dull skin, dryness, and many more. So it's time to get timeless and radiant skin with the goodness of Hyaluronic Acid Serum with Mamaearth. It keeps the skin soft, plump, nourished, and ageless.
It is lightweight, removes fine lines and wrinkles, refines skin pores, and hydrates the skin deeply. In addition, it comes with the natural goodness of Rosehip Oil, Hyaluronic Acid, Olive, and Coconut that make your skin feel refreshed, gentler, softer, suppler, and more radiant.
Summing up
Our skin reflects our mental state, and it is not difficult to find stressed people also facing a lot of skincare issues. As a result, they are prone to fine lines and wrinkles more often than others. A proper skincare routine thus requires a mix of a proper lifestyle and dietary choices. It is also just as important to stay away from stress and pollution, even though they have become a rather integral part of our lives. The key is to stay conscious of one's choices about skincare and to let your skin breathe free from stress, worries, and everything in between!